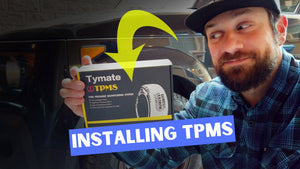 How To: Install Tymate Tire Pressure Monitoring System (TPMS) & Review
Since putting the Black Rhino wheels and Toyo Open Country AT3's on the Honda Element, I now have to use a TPMS system because the new rims/tires didn't come with a set. I purposely left them off because I knew I would be airing up and airing down constantly when going offroad.
Super easy to install and highly useful.  We're going to take a look inside the box, put them on, and take a spin for some initial thoughts about the units.
I'm super stoked on these from the start, simply because they give a read out of the PSI in each tire. With airing down to be off road more, these will come in handy if I want to know exactly what I'm running at all times.
Bonus: It shows me my battery voltage.
While they're still a relatively new addition on my Element, I'll be sure to report back if any issues come up.
They can certainly be used on any vehicle and hopefully this helps you figure out if you want a set of these or not for your ride.
I would love to hear what is next for your rig. Thanks for watching and be sure to subscribe if you haven't already!
-Scott
My Overland Rig's Motto: "RUN WHAT YA GOT."
www.myoverlandrig.com
Buy a T-shirt to help support the channel:
https://myoverlandrig.com/collections/lifestyle-clothing
Follow us on Instagram: @myoverlandrig
Check out some of the latest Overlanding gear, backpacks, tents, roof racks, and products to get out into the world and live some adventure.
Products mentioned and/or used:
Tymate Tire Pressure Monitoring System (TPMS)
Video Equipment
---