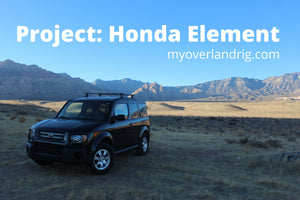 Project: Honda Element - Introduction
Project: Honda Element - My Overland Rig
This is the introduction of the new project for www.myoverlandrig.com, "Project: Honda Element"
We'll be building out a fun little adventure SUV out of my 2008 Honda Element. Currently it's bone-stock, but that is going to change.
Visit our website for Product Reviews, Recommendations, and a curated list of items that are geared towards the outdoor enthusiasts of Overlanding, Hiking, Camping, and Outdoorsmanship.
Location: Red Rock Canyon, Las Vegas, NV
Instagram @myoverlandrig
Wearing: Dixxon MVMT Black Diamond Vans North Face
Like, Share, Subscribe!
Most of all, enjoy and leverage what you have, your world around you, and help others the way you want to be helped. Cheers!
If the embedded video doesn't show above, you can directly view the video here: https://youtu.be/XV-L-g-ZnPE

Video Shot with the DJI Osmo Pocket
---