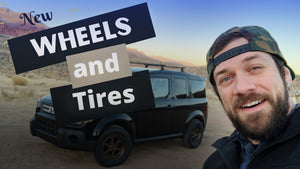 New Black Rhino Wheel and Toyo Open Country AT3 Tire Install
Hey! This is the next step in the build of my 2008 Honda Element EX, manual.
We swap off the stock tires and rims for a chunkier set of Toyo Open Country AT3 sized in 225/70R16.
The wheels we are adding are Rumble by Black Rhino Wheels, satin Bronze coloration. 16x7, ET15, bolt pattern: 5x4.5" (5x114.3mm). Products linked BELOW!
While this process of swapping a set of rims/tires on a vehicle is easy for some, I added a few tips in there for people who may want to tackle this themselves for the very first time. BONUS: I spec'd the Toyota FJ Cruiser / 4Runner / Tacoma sizes below also. I'll always include some fitments for other rigs, when possible.
I hope this helps and you dig the new look of the Element.  Leave your comments below, keep it cordial, and would love to hear what is next for your rig. Thanks for watching and be sure to subscribe if you haven't already!
-Scott
My Overland Rig's Motto: "RUN WHAT YA GOT."
Buy a T-shirt to help support our work:
https://myoverlandrig.com/collections/lifestyle-clothing

Follow us on Instagram: @myoverlandrig
Check out some of the latest Overlanding gear, backpacks, tents, roof racks, and products to get out into the world and live some adventure.
Products mentioned and/used:
++++ Honda Element 2003-2011 ++++ 
(check your specific model year for any variances)
Toyo Open Country AT3 size 225/70R16
Rumble Wheel by Black Rhino (16x7, 5x4.5" or 5x114.3mm, BLACK COLOR)
Rumble Wheel by Black Rhino (16x7, 5x4.5" or 5x114.3mm, OD GREEN COLOR)
Mentioned Toyo Open Country AT 2, 225/70R16
Tekton 1/2" Drive Torque Wrench
Tekton 1/2" Drive Breaker Bar
++++ Toyota 4Runner, Toyota FJ Cruiser, Toyota Tacoma ++++ 
(check your specific model year for any variances)
Toyo Open Country AT3 size 265/70R17
4Runner Rumble BRONZE 17" (bolt pattern 6x5.5" or 6x139.7mm)
Video/Audio Equipment
Deity V.Lav Mic - https://amzn.to/3nX9rQK
DJI Osmo Pocket 2
---